FHS Nonfat Dry Milk
From Prepper Living
Nonfat Dry Milk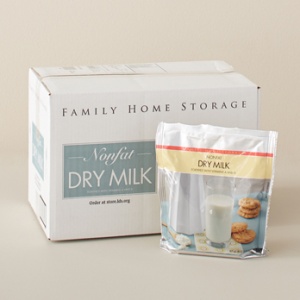 A case of 12 28oz pouches of dry milk. Each case weighs 24lbs. Each pouch makes 1.8 gallons of milk. Food items cannot be shipped to addresses outside the United States.
Details:
Estimated shelf life of 20 years. Estimate assumes storage in a cool (below 75 degrees Fahrenheit), dry place.
Serving size - 3 TBSP. Servings per container - 29. Calories - 100. Total Fat - 0g. Cholesterol - 5mg. Sodium - 150mg. Total Carbohydrate - 14g. Dietary Fiber - 0g. Protein - 10g. Sugars - 13g.
Ingredients - Nonfat dry milk, vitamin A Palmitate, Vitamin D3.