Difference between revisions of "LifeStraw Personal Water Filter"
From Prepper Living
m

m

Line 17:
Line 17:
 
 
 

http://amzn.to/2cn6hAh

 

http://amzn.to/2cn6hAh

 
+
 
+
---
Revision as of 17:04, 11 September 2016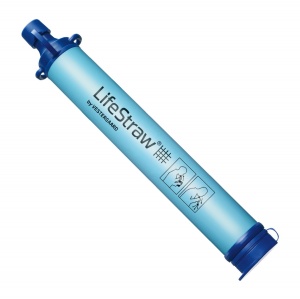 Award-winning LifeStraw has been used by millions around the globe since 2005
Removes minimum 99.9999% of waterborne bacteria (>LOG 6 reduction) and surpasses EPA standards for water filters
Removes minimum 99.9% of waterborne protozoan parasites (>LOG 3 reduction) and filters to an amazing 0.2 microns
Filters up to 1000 liters of contaminated water WITHOUT iodine, chlorine, or other chemicals
Comes in a sealed bag, perfect for storing for emergencies
Product Description
A Time Magazine Invention of the Year winner, LifeStraw contains no chemicals, no batteries and no moving parts to wear out. It features a high flow rate and weighs only 2oz. It is perfect for the Ultralight backpacker, camper, hiker, traveler, boy scout, hunter or for emergencies. Unlike many similar filters on the market today, LifeStraw has met EPA standards for water filtration in independent testing. LifeStraw has been used around the world under extreme conditions for humanitarian relief. Does not filter chemicals, salt, viruses, heavy metals, taste. Please NOTE: It takes roughly 3-5 seconds of sucking to start the flow of water through the filter.