FHS Sugar
From Prepper Living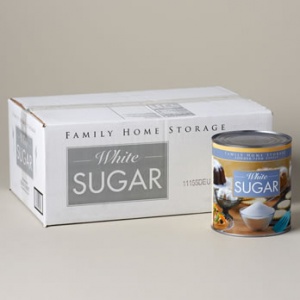 A case of six #10 cans of granulated sugar. A case contains 34.8 lbs. of product. Food items cannot be shipped to addresses outside the United States.
Estimated shelf life of 30 years. Estimate assumes storage in a cool (below 75 degrees Fahrenheit), dry place.
Serving size - 1 tsp. Servings per container - 693. Calories - 15. Total Fat - 0g. Cholesterol - 0mg. Sodium - 0mg. Total Carbohydrate - 4g. Dietary Fiber - 0g. Protein - 0g. Sugars - 4g.
WARNING: Concerning exposure to bisphenol A in canned foods. See "Details" tab below for more information.